Measuring the timing accuracy and jitter of 1PPS signals in White Rabbit applications
by Mirco Kolarczik | on 19 April 2021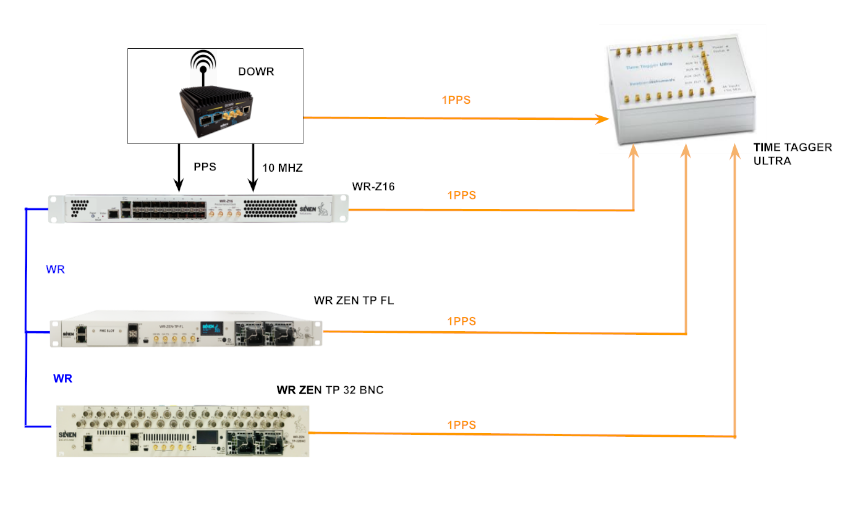 The transmission of accurate timing information is essential today - not only in science but also in industry and finance. For instance, precise timestamps in high-speed trading decide who makes a fortune - and who doesn't. With the Precision Time Protocol (PTP), accuracies in the nanosecond range can be established over long distances. The White Rabbit technique extends the PTP and even pushes the accuracy to the picosecond range. Testing the quality of newly installed systems is a prerequisite for reliable and trustworthy applications.
Together with our partners from Seven Solutions, the leading provider of White Rabbit equipment, Swabian Instruments demonstrated the application of the Time Tagger Ultra as highly accurate test equipment. The sparse timing signals - only one pulse per second (1PPS) - are an entirely new field to the Time Tagger that we currently make accessible by new software kits and measurement classes. In two measurement series, the team from Seven Solutions tested the internal accuracy of their system and the external accuracy compared to a GPS signal. With measured accuracies below 200 ps (RMS jitter ≤120 ps) in the external case and even 30 ps and lower (RMS jitter ~17 ps) in the internal case, the Swabian Instruments Time Tagger Ultra impressively demonstrated the capabilities of the Seven Solutions White Rabbit system.
More details are available in our Application Note (PDF).