Swabian Instruments was successful at the Innovation Award 2018
by Marlene Pfisterer | on 12 December 2018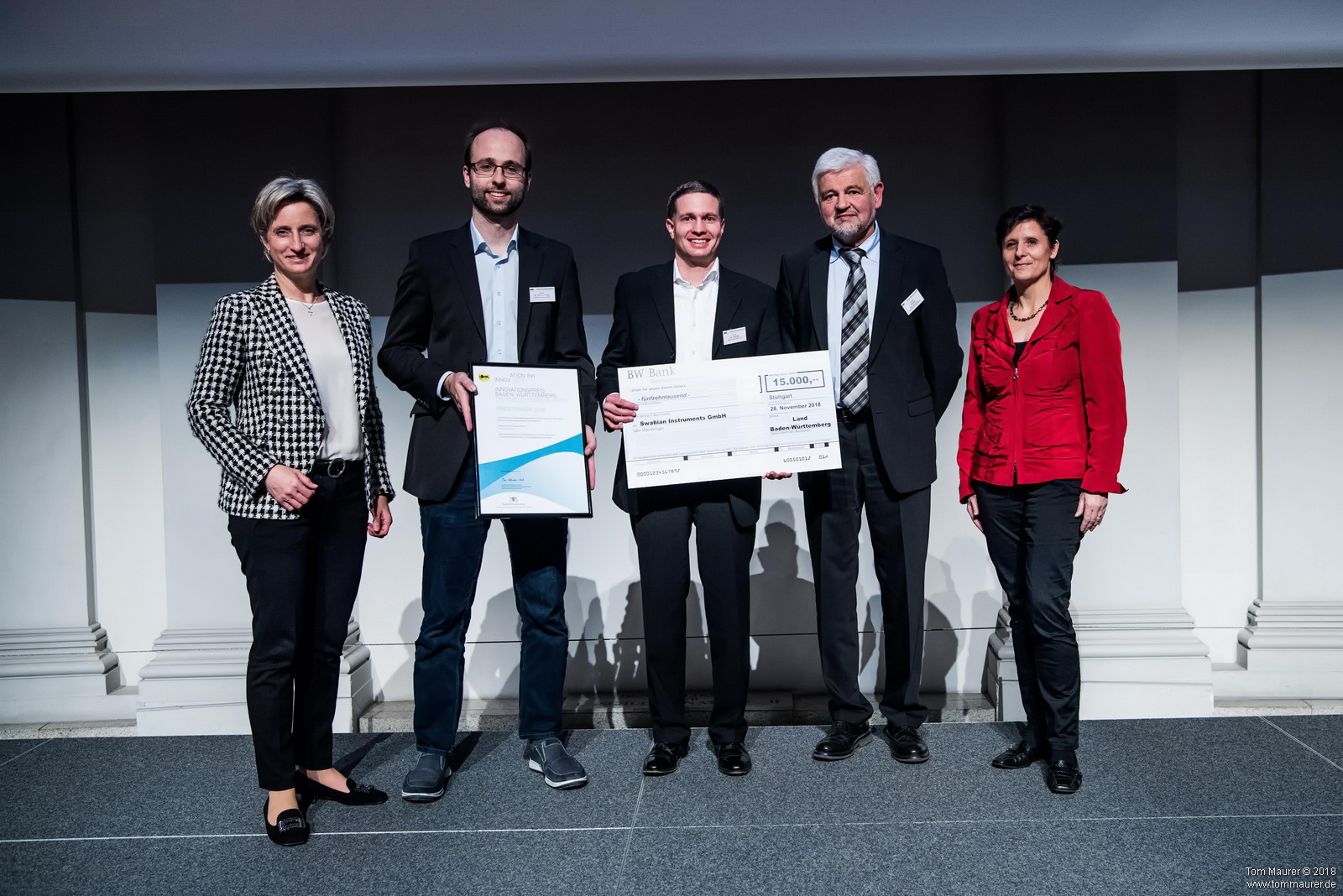 In November, the state of Baden-Württemberg awarded the Innovation Prize 2018 to small and medium-sized businesses from industry, crafts and technological services. The companies were honored for their outstanding developments and applications of new technologies.
Dr. Nicole Hoffmeister-Kraut from the Ministry of Economic Affairs, Labor and Housing celebrated the companies' achievements with prizes and awards and praised the young companies for developing and marketing these new technologies. "With the Innovation Award, we want to recognize the inventiveness and creativity of medium-sized companies who are boosting our economy here in the southwest", she said.
Among 94 applicants, Swabian Instruments scored the 2nd place and was honored with a prize of 15.000 Euro. In her laudation, Dr. Christine Neuy, Managing Director of the microTEC cluster Südwest, summarized the outstanding performance of Dr. Helmut Fedder, Dr. Michael Schlagmüller and Markus Wick with a quote from Galileo Galilei: "Measure what can be measured, and make measurable what cannot be measured."
"With the development of the Time Tagger, the three scientists have revolutionized measurement technology and enabled scientists all over the world to perform their measurements in a flexible, scalable, and cost-efficient way", she said. "Internationally renowned research institutions, such as the Massachusetts Institute of Technology (MIT), Max Planck Institutes and the Tsinghua University, are among their customers."
CEO Dr. Helmut Fedder sees a fruitful future for Swabian Instruments:
As a young and small start-up, we are delighted to have received this prestigious award. We are convinced that with our outstanding technology and team, we are moving to new borders in terms of what can be achieved in the digital data acquisition business.
We as a company know that this success would not have been possible without you. So, THANKS TO ALL OF YOU!